These
curved trusses
are made with full accuracy which guarantees a perfect fitting. All curved parts are made in special tools ensuring that all parts are identical. Every curved segment of a circle is fully exchangeable.
We offer a broad range of circles and
curved trusses
from FD25 till ST Series in various diameters and degrees. The number of curved parts is depending on the maximum length of each segment.
The maximum length per segment may not exceed 5,5m. Our advice is to purchase an even number of parts (2, 4 or 8 parts) in order to obtain full flexibility and exchangeability with standard lengths and corner elements
Further it is advisable to check upon load bearing capacity as a circle or curved structure needs to be calculated differently.
Curved Truss Design Description:
Material: Aluminum Alloy 6082-T6
Main tube:50x3mm
Brace tube : 25*3mm
Diameter:,2m,3m,4m,etc (customizable)
Shape: Circle
Control system: DMX512
Applications:Night Club, Night Bar, Concert, Outdoor and indoor performance and shows, Exhibitions,etc.
Curved Truss Design Advantage
The rotating speed can be controlled.
Since it is revolving , it will cover all angle, light all corner.
easy to set up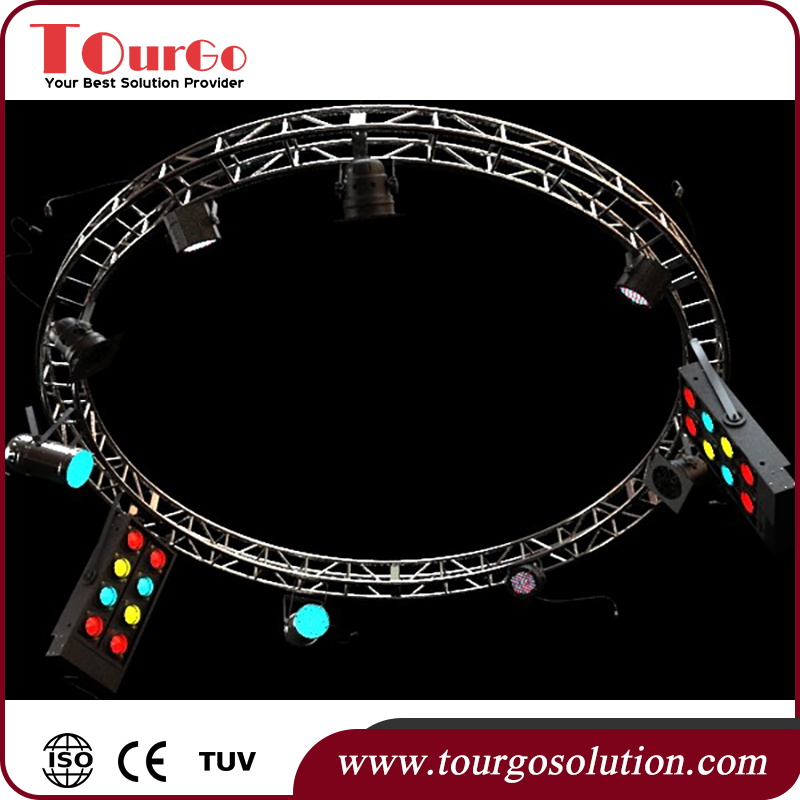 ---
Post time: Sep-08-2017