TourGo 5 Chord 400mm Aluminum Square Lighting Truss Black 1m
Product Detail
Specifications
FAQ
Product Tags
This F45 Truss is based on the F44P 400mm x 400mm truss design and is used for applications such as LED screens where balanced centre rigging of the screen panels on the truss is essential. A central chord with ladder-style horizontal bracing on the bottom face of the truss allows LED panels to be clamped directly onto the centre chord. This negates the need to sling or brace across the two bottom chords to provide a central rigging points as would normally be necessary on a square format truss. Furthermore, the ladder-style horizontal braces creates more and more clear hanging space along the chord compared to the outside chords. Because it is based on the F44P Truss design, F45 Truss can connect to all standard F44P junctions or sleeve blocks so you use your existing F44P Truss to build the rest of the structure! Future development of truss accessories will mean that use of F45 Truss will not be limited to LED screen hanging applications.
---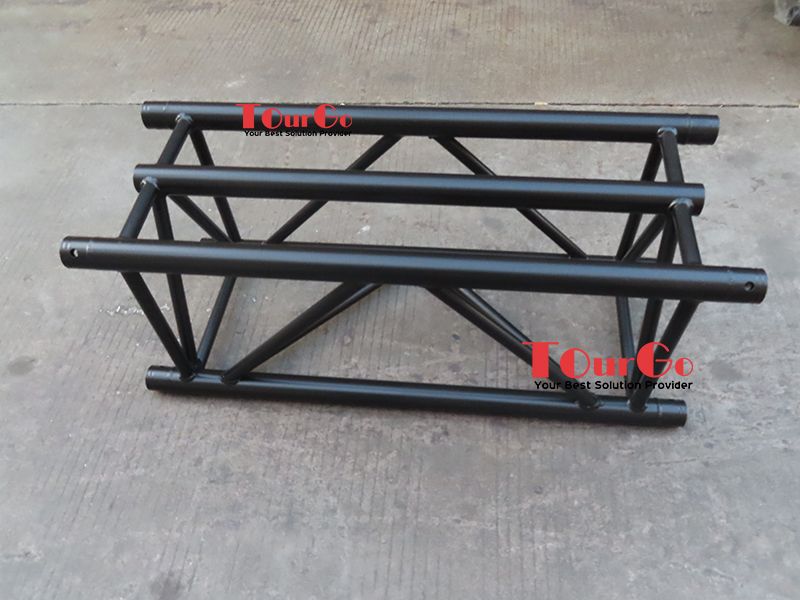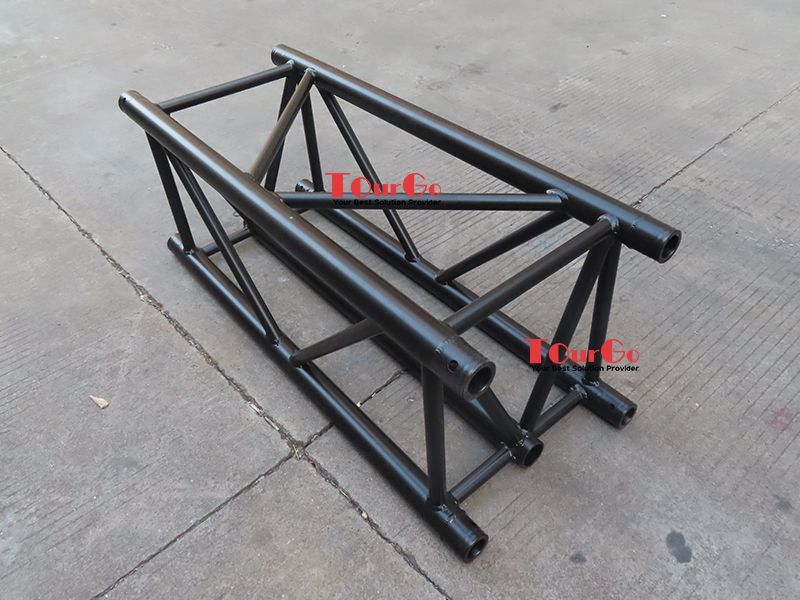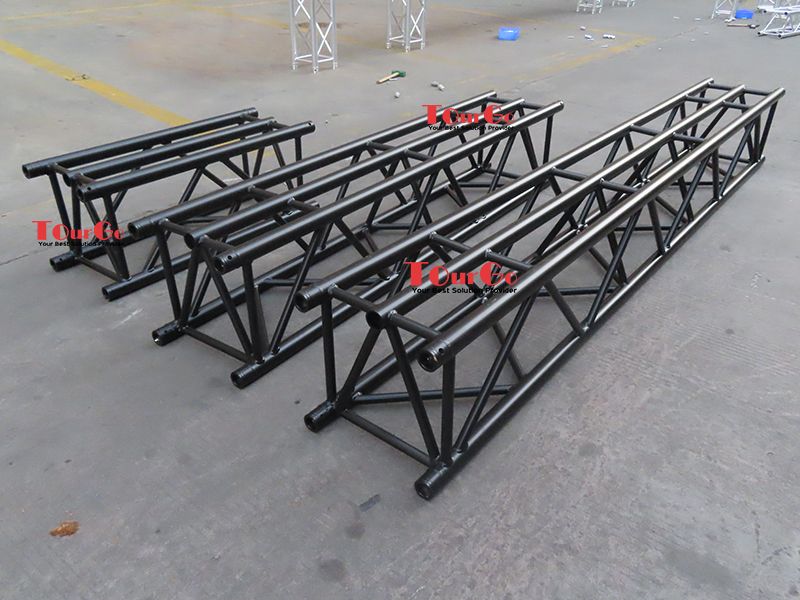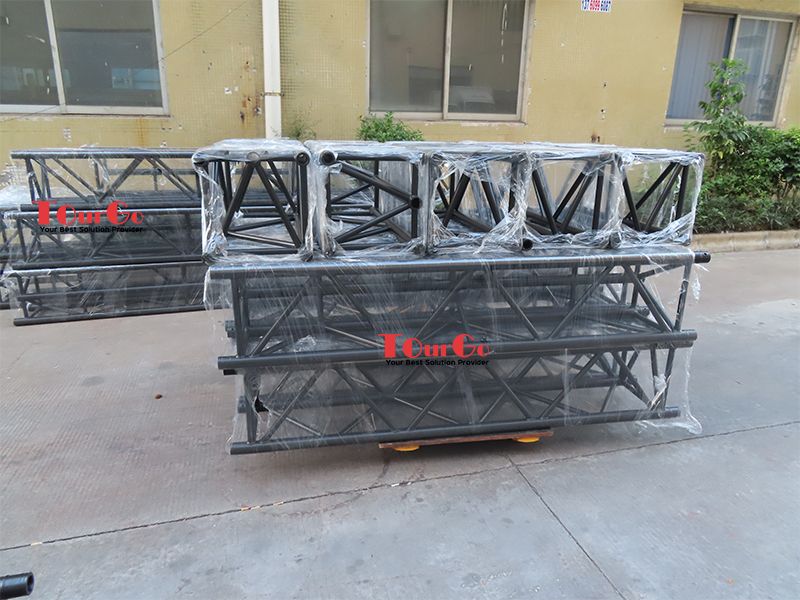 Previous:
300mm Aluminum Box Stage Truss 2m
General
| | |
| --- | --- |
| Colour | Aluminum |
| TÜV certificate | No |
| Material | Al EN AW-6082 T6 |
Technical Data
| | |
| --- | --- |
| Number of points | 5-Punkt |
| Edge dimension | 40 cm |
| System | F45 |
| Type | straight |
| Truss length | 100 cm |
main pipe:
| | |
| --- | --- |
| Diameter main pipe | 50 mm |
| Wall thickness main pipe | 4 mm |
Brace:
| | |
| --- | --- |
| Diameter Brace | 25 mm |
| Wall thickness Brace | 3 mm |
Hardware:
| | |
| --- | --- |
| Dimensions (L/W/H) | 1000 x 400 x 400 mm |
---
Shipping data
| | |
| --- | --- |
| Dimensions (L/B/H) | 1000 x 400 x 400 mm |
| Weight | 15.86 kg |
1.  Why your factory provide not only  lighting truss, but also  flight case, portable stage, pipe and drape ,ect ?
Actually, the reason is very simple. All our product need the similar raw material , like plywood, aluminum alloy tube. We just need buy the professional machines, hire the skillful workers and enhance the R& D Team. We hope we could provide " One-Stop service" for our clients.
Our concept is " Tourgo , Build your dream"  Our goal is to win the bright future and be the No. 1 Pro sound & Light equipment manufacturer.
2. Does Tourgo company provide the OEM service?
Yes, Tourgo could provide the OEM service according to your request.
We have the ten-year designers team, the customized flight case, portable stage, and  lighting truss also is available,  just need your idea!
3. Does Tourgo company offer warranty for the sold products?
Only if your products are purchased from Tourgo company, we promise life time warranty. In other words, if your products are purchased directly from us or our dealers, you can enjoy such warranty.
4. Do you provide the flight cases parts for replacement I purchased from Tourgo company ?
Well, almost all our flight cases parts are replaceable. You can replace them yourself. If you want to get them, you can contact us soon.   
5. What is the mean of Alphabet "U" in rack case catalog?
For rack case, we offer 2U, 4U, 6U, 8U and other models of "U" cases. "U" here is a unit referring to inner height of the rack case . Usually, 1 U equals 1.75" (4.45cm).
6. I want to distribute your products in my country. How can I become a distributor ?
Tourgo has searched global deals for all our products. We will provide preferential offers for all deals, especially those in large amount. For most information about dealership, please visit our Distributor Wanted.  
7. What is the MOQ for your products?
Tourgo requires no minimum order quantity, and we can ship single item samples or large orders worldwide for any clients who are in need of our products
8. Can I get any discount for my order?
Yeah, you can contact our sales team, depending on the amount of your order 
- The products you need
- The exact desired order quantity
- Your desired time frame
- Any special packing instructions
With this information we will get back to you with a quotation.
We also offer limited time promotion, please notice our post in our website.
9. What is your payment term, delivery time? Do you have the reliable freight agent?
The payment term is T/T, Western Union.
Delivery time is 7 – 15 days after we get the payment. Surely, if you need the goods urgently, we  try our best to meet your demand. Moreover, we  will send your goods pictures to you before the shipping
Yes, as a leading manufacturer, we have the reliable freight agent and has done the business with them for many years. If you have your own agent,  we would like to coordinate with them fully.
10. Will you send the drawing of the custom product for our confirmation before the production?           
Yes, Absolutely! Like custom flight case, lighting truss project, portable stage project. We will provide the professional drawing for your confirmation before our production.