TourGo 2 Person Privacy Phone Booth
Product Detail
Specifications
FAQ
Product Tags
TourGo 2 Person Privacy Phone Booth
TourGo 2 Person Privacy Phone Booth is a functional piece of art that will compliment any office space by adding a soulful yet quiet space. This phone booth is stylized with inspiration drawing from an old grain silo but accented with the all-too nostalgic allure of the rolling barn door. When the silo-phone is lit up with its included LED, the light column softly brings out the inviting texture of the Bark Wool sound paneling that hangs from each interior panel. The bench and work surface is the final touch to the interior of the booth making a warm welcome to one seeking a moment of concentrated creative work. With the culmination of materials used and mindful features included, this phone booth is designed to drive efficient creativity and problem solving.
---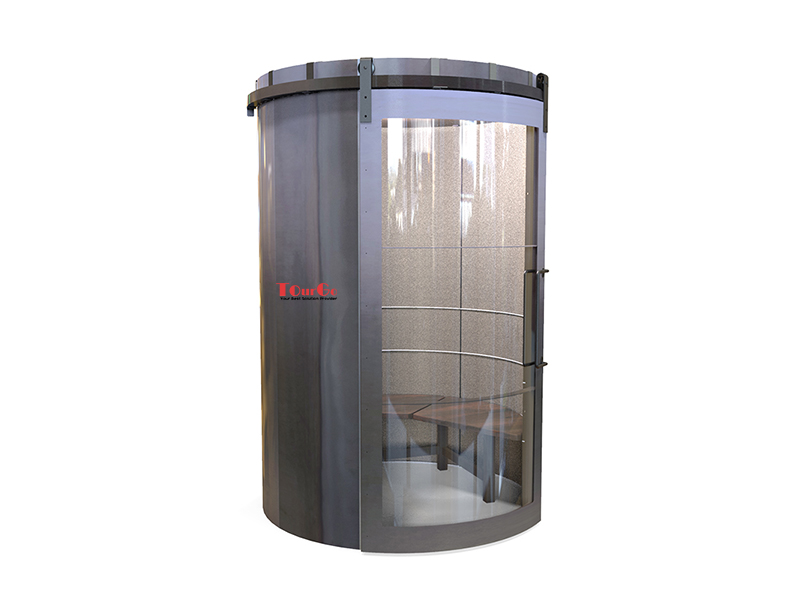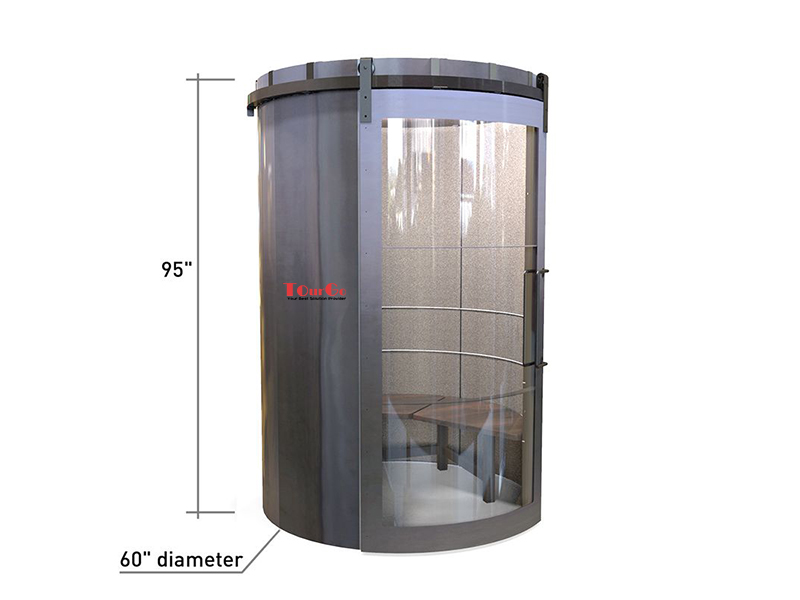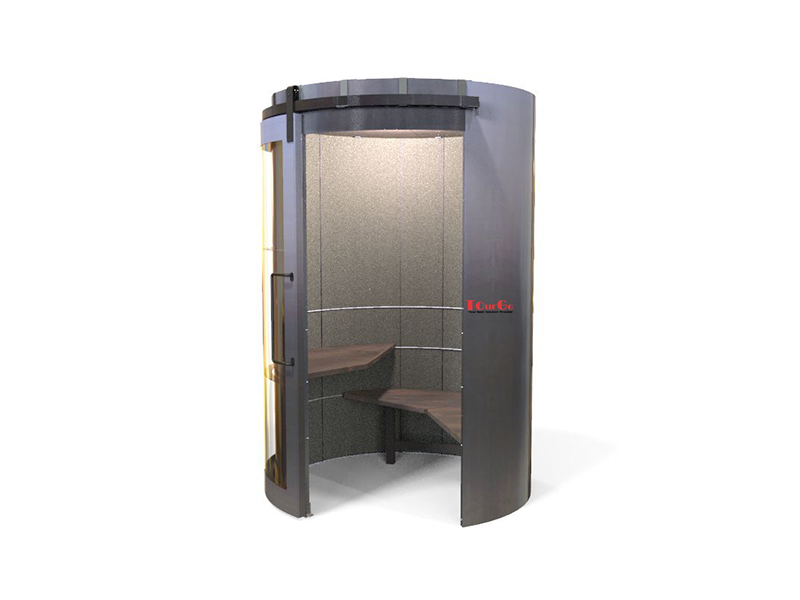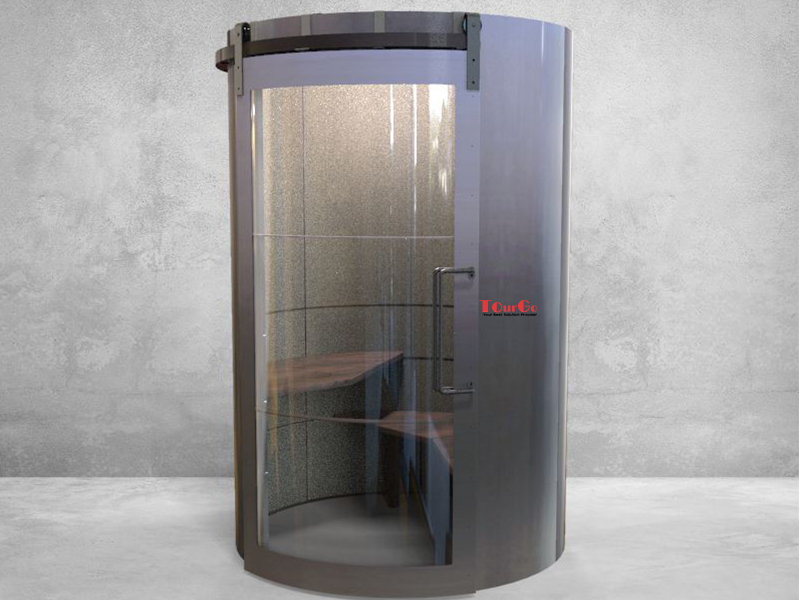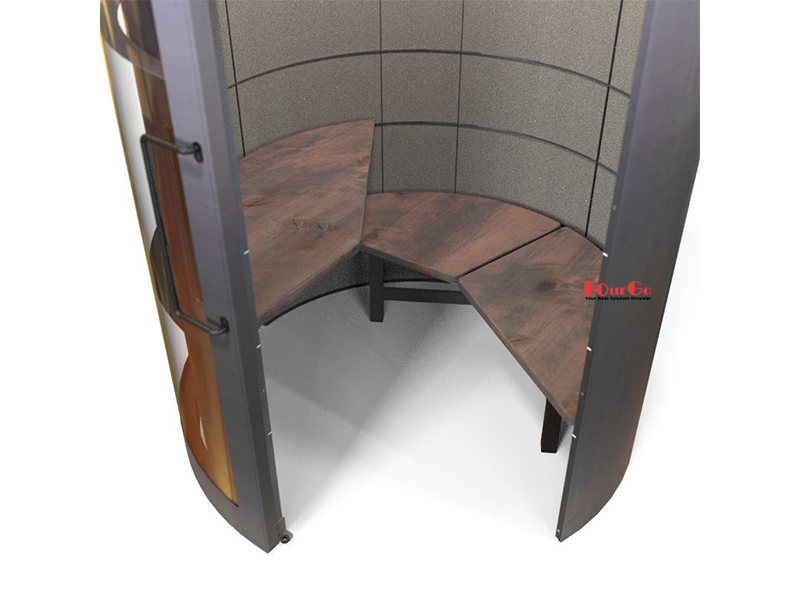 Next:
Kid Ninja Warrior Gym UK
Dimensions: 60" diameter x 90 3/4″ height.
1.  Why your factory provide not only  lighting truss, but also  flight case, portable stage, pipe and drape ,ect ?
Actually, the reason is very simple. All our product need the similar raw material , like plywood, aluminum alloy tube. We just need buy the professional machines, hire the skillful workers and enhance the R& D Team. We hope we could provide " One-Stop service" for our clients.
Our concept is " Tourgo , Build your dream"  Our goal is to win the bright future and be the No. 1 Pro sound & Light equipment manufacturer.
2. Does Tourgo company provide the OEM service?
Yes, Tourgo could provide the OEM service according to your request.
We have the ten-year designers team, the customized flight case, portable stage, and  lighting truss also is available,  just need your idea!
3. Does Tourgo company offer warranty for the sold products?
Only if your products are purchased from Tourgo company, we promise life time warranty. In other words, if your products are purchased directly from us or our dealers, you can enjoy such warranty.
4. Do you provide the flight cases parts for replacement I purchased from Tourgo company ?
Well, almost all our flight cases parts are replaceable. You can replace them yourself. If you want to get them, you can contact us soon.   
5. What is the mean of Alphabet "U" in rack case catalog?
For rack case, we offer 2U, 4U, 6U, 8U and other models of "U" cases. "U" here is a unit referring to inner height of the rack case . Usually, 1 U equals 1.75" (4.45cm).
6. I want to distribute your products in my country. How can I become a distributor ?
Tourgo has searched global deals for all our products. We will provide preferential offers for all deals, especially those in large amount. For most information about dealership, please visit our Distributor Wanted.  
7. What is the MOQ for your products?
Tourgo requires no minimum order quantity, and we can ship single item samples or large orders worldwide for any clients who are in need of our products
8. Can I get any discount for my order?
Yeah, you can contact our sales team, depending on the amount of your order 
- The products you need
- The exact desired order quantity
- Your desired time frame
- Any special packing instructions
With this information we will get back to you with a quotation.
We also offer limited time promotion, please notice our post in our website.
9. What is your payment term, delivery time? Do you have the reliable freight agent?
The payment term is T/T, Western Union.
Delivery time is 7 – 15 days after we get the payment. Surely, if you need the goods urgently, we  try our best to meet your demand. Moreover, we  will send your goods pictures to you before the shipping
Yes, as a leading manufacturer, we have the reliable freight agent and has done the business with them for many years. If you have your own agent,  we would like to coordinate with them fully.
10. Will you send the drawing of the custom product for our confirmation before the production?           
Yes, Absolutely! Like custom flight case, lighting truss project, portable stage project. We will provide the professional drawing for your confirmation before our production.