Broadcast Recording Studio Vocal Isolation Drum Sound Proof Phone Booth/Enhanced Podcast Booth
Product Detail
Specifications
FAQ
Product Tags
Our sound isolation booths significantly reduce ambient and acoustic noise and can be used as vocal booths for recording music, voice over or translations, as a broadcast booth, musical instrument practice booth, office solutions, medical or audiology testing labs, post-production rooms, and much more.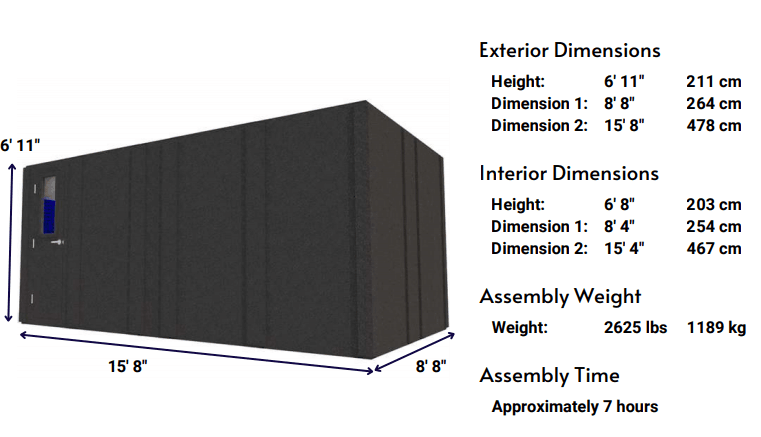 TourGo Booth remote fan units have a 38dB noise rating. This slight noise can be eliminated by positioning each fan into an Exterior Fan Silencer (EFS). The number of EFS units needed depends on the size of the booth and the number of ventilation systems required.
LED Lights are intended to provide customers with basic startup lighting. It is understood that most customers will ultimately purchase and install lighting fixtures more suitable to their individual needs and desires. One or two lights are provided depending on the enclosure's size.
Effective air circulation is accomplished by acoustically engineered, detachable ventilation systems which circulate air at a rate of 80 CFM (cubic feet per minute). The number of systems required depends on the size of the TourgoBooth unit. Roof-mount ventilation systems are also available for most models.
External electrical switch with fuse
Office desk is designed to help you maximize your workspace. Two USB outlets and two 120-volt outlets are conveniently attached to the desk so you can plug right in. The 30″ wide red oak desk is attached to a backing panel with adjustable hinges. This gives you the flexibility to fold the desk down and make more space in the booth when you decide not to use it. Can be installed on the inside or outside of your Booth.
Cable Passages Access for communications such as microphones, headphones, speakers, and electrical cables is accomplished by way of slotted rubber cable passage plugs. Simply remove the plug, insert the cable(s) into the slots and re-insert the plug into the wall. Two or more cable passage plugs are provided with each booth and each will accommodate multiple cables. The number of cable passages depends on the size of the unit.Also, an additional cable passage is located at the base of each optional window component.
Model

Approximate




Exterior Size

Approximate




 Interior Size

Weight




(lbs)

S(Single Wall)

8'8" x 15'8" x 6'11"

264x477x211cm

8'4" x 15'4" x 6'8"

254x468x203cm

2,625lbs

1181kg

Basic Features Included in Price:

• 4 Ventilation System                               •2 LED Light




• 15 Acoustical Foam Sheets                    •1 Universal USB Socket




•12″ x 30″ Door Window                            •6 Cable Passages
1.  Why your factory provide not only  lighting truss, but also  flight case, portable stage, pipe and drape ,ect ?
Actually, the reason is very simple. All our product need the similar raw material , like plywood, aluminum alloy tube. We just need buy the professional machines, hire the skillful workers and enhance the R& D Team. We hope we could provide " One-Stop service" for our clients.
Our concept is " Tourgo , Build your dream"  Our goal is to win the bright future and be the No. 1 Pro sound & Light equipment manufacturer.
2. Does Tourgo company provide the OEM service?
Yes, Tourgo could provide the OEM service according to your request.
We have the ten-year designers team, the customized flight case, portable stage, and  lighting truss also is available,  just need your idea!
3. Does Tourgo company offer warranty for the sold products?
Only if your products are purchased from Tourgo company, we promise life time warranty. In other words, if your products are purchased directly from us or our dealers, you can enjoy such warranty.
4. Do you provide the flight cases parts for replacement I purchased from Tourgo company ?
Well, almost all our flight cases parts are replaceable. You can replace them yourself. If you want to get them, you can contact us soon.   
5. What is the mean of Alphabet "U" in rack case catalog?
For rack case, we offer 2U, 4U, 6U, 8U and other models of "U" cases. "U" here is a unit referring to inner height of the rack case . Usually, 1 U equals 1.75" (4.45cm).
6. I want to distribute your products in my country. How can I become a distributor ?
Tourgo has searched global deals for all our products. We will provide preferential offers for all deals, especially those in large amount. For most information about dealership, please visit our Distributor Wanted.  
7. What is the MOQ for your products?
Tourgo requires no minimum order quantity, and we can ship single item samples or large orders worldwide for any clients who are in need of our products
8. Can I get any discount for my order?
Yeah, you can contact our sales team, depending on the amount of your order 
- The products you need
- The exact desired order quantity
- Your desired time frame
- Any special packing instructions
With this information we will get back to you with a quotation.
We also offer limited time promotion, please notice our post in our website.
9. What is your payment term, delivery time? Do you have the reliable freight agent?
The payment term is T/T, Western Union.
Delivery time is 7 – 15 days after we get the payment. Surely, if you need the goods urgently, we  try our best to meet your demand. Moreover, we  will send your goods pictures to you before the shipping
Yes, as a leading manufacturer, we have the reliable freight agent and has done the business with them for many years. If you have your own agent,  we would like to coordinate with them fully.
10. Will you send the drawing of the custom product for our confirmation before the production?           
Yes, Absolutely! Like custom flight case, lighting truss project, portable stage project. We will provide the professional drawing for your confirmation before our production.